News
Modern Perl, 4th edition is now available from Pragmatic Bookshelf!
Featured Books
In Dream Walker: The Tale of the Sleepless Knight, a boy named David Calloway finds that when he sleeps, he can walk into other people's dreams, seeing all their hopes and fears. However, after being attacked in his dream by someone calling themselves the Sleepless Knight, he realizes that not only are there more people out there with this ability, but somebody is coming to steal his dreams for their own nefarious purposes.
by Diana Larsen and Ainsley Nies
December 2011
Liftoff—it's the unexplored, often ignored, Agile project practice.
As the first act of the flight, a rocket launch requires an entire set of systems to successfully lift the vehicle into orbit—not just the vehicle itself, but all the systems needed for smoothly moving off the ground into space. Likewise, your project needs its entire set of supporting systems in place to begin a successful journey to delivery.
You too can launch successful projects! Agile veterans Diana Larsen and Ainsley Nies share their experience and teach you how to organize and conduct liftoffs, hold team activities to discover what's most important, and offer a working framework for effective and lightweight agile chartering.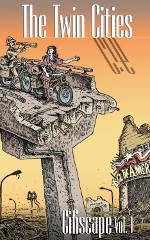 by Ken Avidor, Brian Garrity, Toianna Gump, Max Hrabal, Bob Lipski, Ken Lubold, & Aaron Wilson
The community comes together, to narrate their hopes and fears of our future in the Twin Cities. Cifiscape Vol. I describes a diverse and gritty future for our beloved Metro. Including seven of the best Twin Cities short stories and graphic comics, Onyx Neon Press is proud to present these glimpses into the future of the Twin Cities.
New! Download for free!
The world cries out for justice, peace, healing, and inspiration — and heroes arise. Unfortunately, they stick around after that.
Everything in the city is new to John-Paul, including a new identity he never asked for and strange abilities everyone seems to take for granted. Is this all just a cruel hoax on a wide-eyed farmboy?
Everyone wants something from Pandora, and she'll go along just to figure out what's happening. Is there more to this photojournalism intern than she thinks?
Everywhere conspiracies lurk in Titian's mind. Is the old man as rich and powerful as he seems, or is he as much of a pawn as he considers his underlings?
Every day is another chance for the world to spin out of control around Clownfish. Is she the only one who wonders when and where everything went wrong?
Perhaps the imminent destruction of Gigapolis, home to millions of perfectly average people happy to leave heroics to heroes, will clarify their thinking — if it doesn't kill them all first.
New! Download for free!
The city is a haven for dreamers and idealists who spend their time in ornately mundane ways. Now and then someone escapes to touch the face of the sky.
Life is what you make it. It's hard to be a grown-up but too easy to take things seriously.
One day, Ben woke up with a good job, a house, and no idea what he wanted out of life. Then she knocked his comfortable world askew.
In one brief moment of clarity, he saw the whole picture: life, the universe, and his place in it. Now all he knows is that if he can do it again, he has a chance to achieve what everyone wants.
A word from our authors...
"Aliens!" The Dread Pirate Jack Spartan spit the word carelessly across the beach.
He sat just shy of the water's edge and watched the ship—his ship!—soar ever smaller to the lee of the sun, where a shadowy hulk menaced the otherwise blue sky.
There would be no third hijacking, he resolved.
The tropical sun bore down. Jack found shade under a palm tree and resumed his reading. He'd risked his skin to save a small satchel of books.
"Aliens," he grumbled again. They'd pay... and the words under his fingers began to tickle an idea in his head.